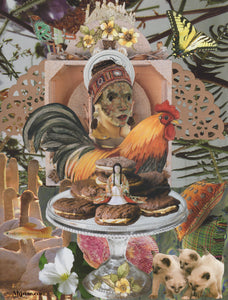 This collage reminds me of the early morning with the awakening of the day, as the rooster crows across the street. My 103-year-old friend with all her wonderful advice used to tell me we could eat anything we want for breakfast, who is to say we can't! 
The original of this piece is a hand-cut paper collage created by Claudia.
Prints are professionally printed on high-quality paper. 
Choose an 8x10" or 11x14" print to frame for your home.  
Click here to buy the card version of this print. 
The ahjnae.com watermark you see in images on the website will NOT be printed on your piece of art or greeting card.
Printed in the USA