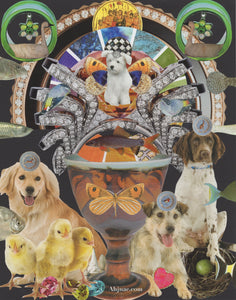 This is a tribute piece I did after our sweet dog Emmy, a Schnoodle passed away. She was such a nice dog and lived 13 years. You will see Emmy in the center of the art with lots of dream symbols to represent her life story.  
This piece would be great for a friend who has lost an animal or has just gotten a new one, a birthday, thank you or anyone who is celebrating. This is an art piece that celebrates life! Do you see the cup of life, the colors of life, the sparkles of life, the signature fish?
The original of this piece is a hand-cut paper collage created by Claudia.
Prints are professionally printed on high-quality paper. 
Choose 8x10" or 11x14" to frame for your home.
Click here to buy the card version of this design.
The ahjnae.com watermark you see in images on the website will NOT be printed on your piece of art or greeting card.
Printed in the USA