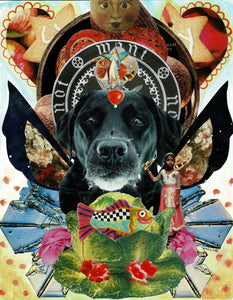 This design is part of my dog series created to celebrate the sweet dogs who bring joy to our homes that were adopted during Covid 19. This Jack Russel Terrier is one of the rescued dogs who found their forever home.  
This card is also part of my new Save the Earth series of one-sided cards.  The idea is to use less paper with a one-sided card. You can still write a message on the back as you would with a postcard.  Save the Earth cards can be used as 'trading cards', for framed prints or to post on your bulletin board.
The original of this piece is a hand-cut paper collage created by Claudia.
Note cards/greeting cards, perfect for framing, are professionally printed on high-quality paper. 
Includes a white envelope
Size: 5x7" or 4x6" one-sided blank card.
Blank on the backside to add your personal message.  
Printed in the USA