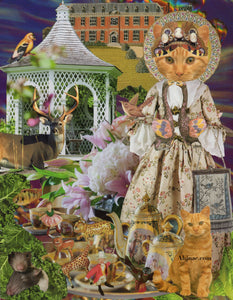 I have always enjoyed tea time, it's a time to relax in the middle of the day.  This collage reflects a happy pause to indulge in thoughts of royalty, china teacups,  formal gardens, birds and animals, a mysterious stag to offer enlightenment, and circus for imaginary entertainment. 
The original of this piece is a hand-cut paper collage created by Claudia.
Prints are professionally printed on high-quality paper. 
Choose 8x10" or 11x14" to frame for your home.
The ahjnae.com watermark you see in images on the website will NOT be printed on your piece of art or greeting card.
Printed in the USA