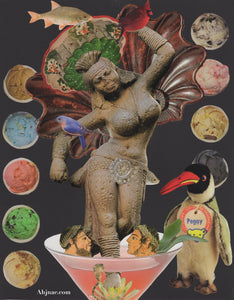 I love this eclectic collage! The Goddess of fertility "Chillin" in the cosmopolitan cocktail which is the tub for the greek men.  The Seahorse is the animal of protection and is on the Lotus of Purity, the ice cream scoops remind us to stay calm, and the toy penguin represents a commitment. Notice the 1960s Jello mold salad as a crown.
The original of this piece is a hand-cut paper collage created by Claudia.
Prints are professionally printed on high-quality paper. 
Choose 8x10" or 11x14" to frame for your home.  
The ahjnae.com watermark you see in images on the website will NOT be printed on your piece of art or greeting card.
Printed in the USA
Click here to shop the card sizes of this artwork.