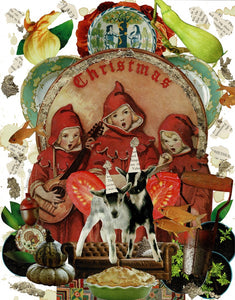 Christmas 2022 "Coming Home for Christmas " is a combination of images depicting the feelings of home.
My Grandparents would have Christmas at their farm in Upstate NY. As a child it was magical.  A fresh tree cut down from the woods, a huge table set with the best china…friends, and relatives would come and bring a special dish to pass. Grandma made her famous fresh mincemeat pie for dessert…I never liked the mincemeat, it was apple with a slice of cheddar cheese for me!
This card reflects the feeling of that time in my life🎄.
This card is also part of my new Save the Earth series of one-sided cards.  The idea is to use less paper with a one-sided card. You can still write a message on the back as you would with a postcard.  Save the Earth cards can be used as 'trading cards', for framed prints or to post on your bulletin board.


The original of this piece is a hand-cut paper collage created by Claudia.
Note cards/greeting cards, perfect for framing, are professionally printed on high-quality paper. 
Includes a white envelope
Size: Choose 4x6" or 5x7" one-sided blank card.
Blank on the backside to add your personal message.  
Printed in the USA