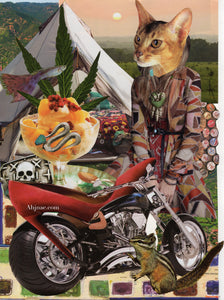 When I was a teenager I dreamt about a time when I would be 18 and able to travel the United States.  To go out West in particular since I live on the East coast. This is the image I imagined in my dreams... when I finally did take the journey it wasn't as glamorous as I had hoped.  The tent leaked and the car broke down!  My Westbound dream taught me that the grass isn't always greener...
The original of this piece is a hand-cut paper collage created by Claudia.
Prints are professionally printed on high-quality paper. 
Choose 8x10" or 11x14" to frame for your home. 
The ahjnae.com watermark you see in images on the website will NOT be printed on your piece of art or greeting card.
Printed in the USA