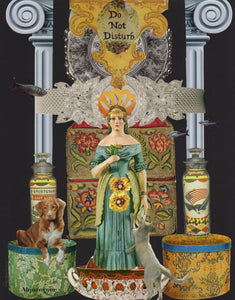 This collage makes me feel connected to the women of the past. The woman in the center is a Figurehead from an old ship, they were sometimes the wife or the daughter of the owner and would bring good luck. The bottles on both sides of her are sand bottles, an old art using sand to create an image in a bottle. The dog and cat are the spirit animals representing loyalty, friendship, elegance and protection. 
The original of this piece is a hand-cut paper collage created by Claudia.
Prints are professionally printed on high-quality paper. 
Choose 8x10" or 11x14" to frame for your home.  
The ahjnae.com watermark you see in images on the website will NOT be printed on your piece of art or greeting card.
Printed in the USA