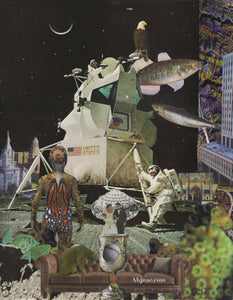 This collage would be perfect for someone who starting a new life journey or going on a trip. There are so many symbols in this; notice the couple starting a new life, the capsule way out in the sky, and the eagle who can fly higher than any other bird!  A greeting card to give to someone who is about to embark on a new beginnings adventure.
The original of this piece is a hand-cut paper collage created by Claudia.
Notecards/greeting cards, perfect for framing, are professionally printed on high-quality paper. 
Includes a white envelope
Blank inside to add your personal message
The ahjnae.com watermark you see in images on the website will NOT be printed on your piece of art or greeting card.
Printed in the USA