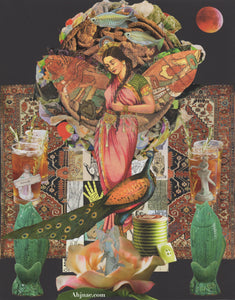 This collage has a lot of spiritual symbols in it, the Goddess is holding a metal Milagro which is traditionally used for healing purposes in Mexico and Latin America. The spirit animal peacock is a beautiful bird, it can help to remind us to work on self-care.
The original of this piece is a hand-cut paper collage created by Claudia.
Prints are professionally printed on high-quality paper. 
Choose 8x10" or 11x14" to frame for your home.  
Click here to purchase the card versions of this art.
The ahjnae.com watermark you see in images on the website will NOT be printed on your piece of art or greeting card.
Printed in the USA